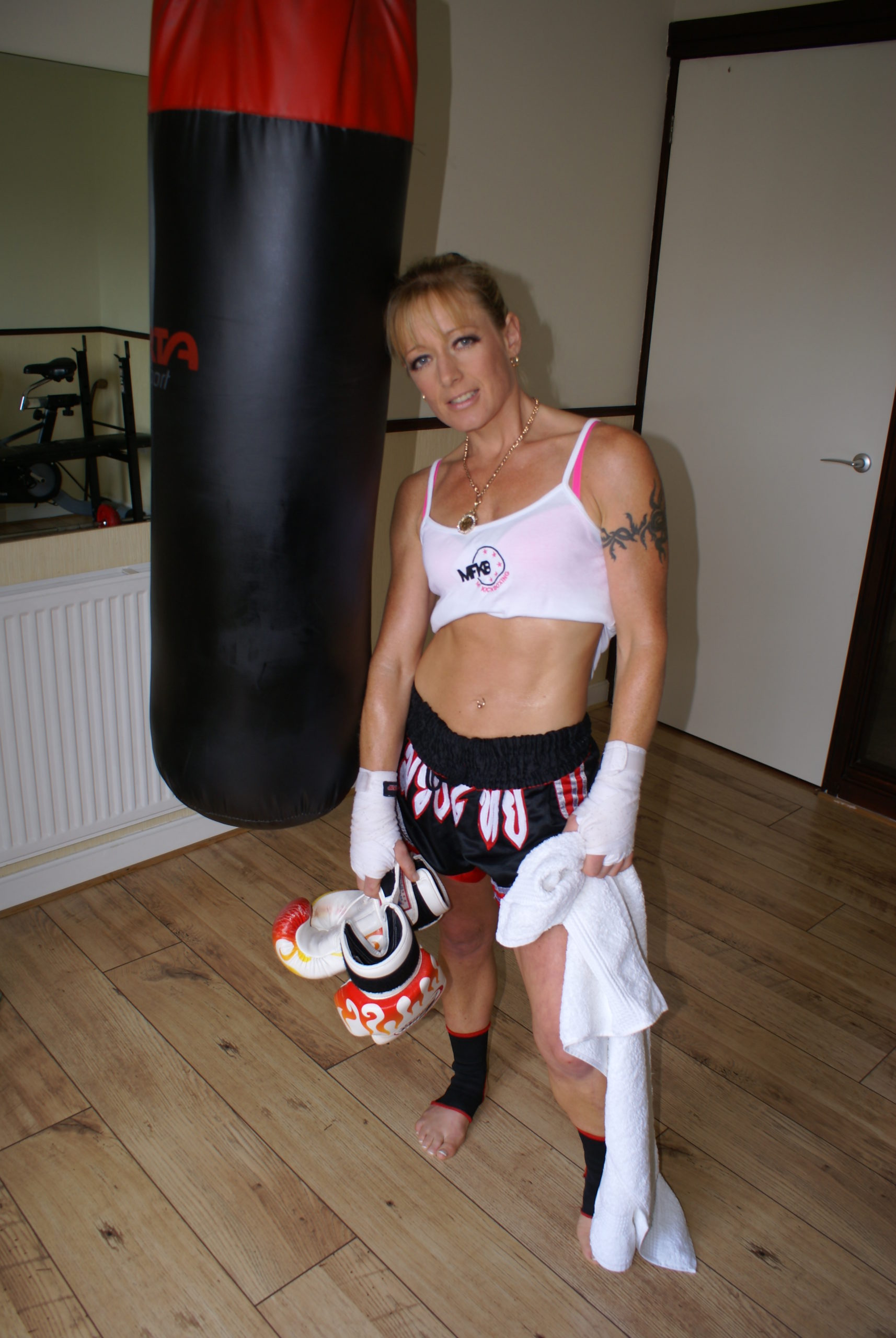 MARION
Growing up, Marion Field had always been interested in the fighting arts but coming from a musical and religious family it was not until she was 17 that she started karate classes, the only martial art available where she lived at that time. Whilst Marion enjoyed this traditional art she couldn't escape the feeling that it didn't quite hit the spot because she wanted to learn to be an effective fighter more than anything. She focused instead on fitness and weight training and it wasn't until almost ten years later, when a friend told her that she was going kickboxing that Marion's martial arts career really took off.
Making up for lost time, Marion was a veritable sponge, committed to learning all she could, attending any seminars and courses that came her way. Once she had been training for a few years she began to teach the new beginners coming into the club and immediately realised she had a love of teaching. She reached 2nd degree black belt in kickboxing, and continued to teach, which became her passion, and in 2004 set up her club MFKB. Marion also started studying other arts to increase her knowledge, including Kung Fu, Torite Jitsu, Sanshou and Boxing. She completed a Level 3 Personal Trainer course in order to fully understand all aspects of training, fitness and nutrition. This desire for knowledge and experience led to Marion training in the art that would transform her life and eventually lead to the full-time gym she now runs.
In order to become a more effective coach Marion started judging at fight shows under the instruction of world class judge and referee Mick Fowles and Leon Kelly. Once qualified as a judge she went on to judge in Muay Thai, Kickboxing, Boxing and MMA but it was during her formative period on the circuit that she met the legendary Ronnie Green who offered to teach her Muay Thai. The rest, as they say, is history as Marion and Muay Thai were an instant fit. She went on to train with various Muay Thai trainers, and currently trains with Kevin Harper at the highly regarded Majestic Gym in Wigan.
WHAT I OFFER
14 + years Muay Thai experience

121 sessions tailored to the individual

Fight camps for competitors

Fitness, diet and nutrition advice

Training for adults and children

Muay thai classes 7 days a week
REBECCA
Hi, I'm Rebecca Maddock a personal trainer & certified nutrition coach. I have transformed my own life through fitness & healthy lifestyle changes, its something I am very passionate about and I am keen to motivate and inspire other people towards a healthier, happier, more positive life through exercise.
My classes at the gym are open to all, they are fun but at the same time push you physically. Designed to develop fitness levels, speed, agility, strength, muscle endurance and work towards improving overall performance in your participating sport so your on top of your game.
I love to make a difference to each individual and seeing the results is very rewarding. Everyone's welcome and it'd be great to have the opportunity to work with you all!
WHAT I OFFER
Personal Training one-on-one
Personal Training small groups
Classes specialising in HITT
Strength Conditioning & Sports Specific training
Advice on Nutrition & plans for sports & exercise nutrition
A running club for all abilities.
AARON
Aaron began Muay Thai training in 121 sessions with Marion at the age of 12. A quiet boy, he soon found a love of the sport and started to come out of his shell. He never missed his sessions and was soon attending classes as well and helping out with the younger children.
Aaron quickly showed an aptitude for teaching, as well as improving his own skills and by his mid teens he was regularly helping out with adults as well as kids classes.
As his love for the sport grew, he spent much of his time not only training but studying fights and techniques online. He wanted to learn as much as he could about the sport, and this has led to him being a valuable member of the team. He especially enjoys assisting in fight camps for the gyms fighters and has now begun to teach classes and 121 sessions in his own right